Introducing LM Funding (NASDAQ: LMFA) to the Groove Focus List
January 24, 2018 at 4:32 pm Leave a comment
LMFA could rally 50% or more to pre-default levels due to conversion of all debt to equity on favorable terms.
Tiny public float of 1 million shares w/ 51% sold short could cause exaggerated move higher on uptick in buying interest.
Today we are announcing our new focus stock to the Groove community – LM Funding America (NASDAQ: LMFA).  LMFA is a small company whose stock has recently fallen to $1.50 per share, breaking down from the $4-$8 per share range it had traded over the last two years. LMFA's stock price was eviscerated over the last few months when the company began to miss payments on its long term debt. The downdraft accelerated with what appeared to be year end tax loss selling that pushed the stock to historical lows. The stock has continued to trade near to those lows despite the fact that all of the company's long term debt was converted to equity on very favorable terms over the last few weeks.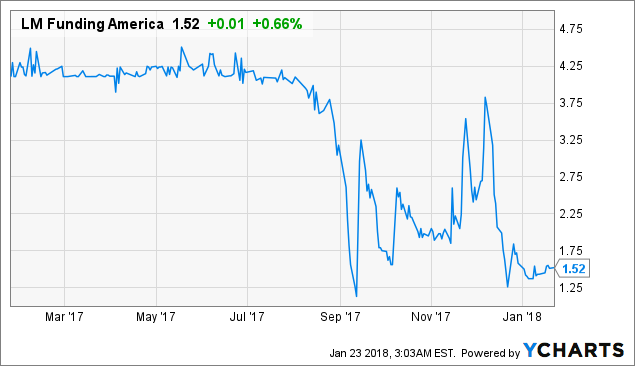 With a clean balance sheet, a significantly reduced cost structure in place and a very significant vote of confidence from a notable third party investor; we would (at a minimum) expect to see LMFA's stock trade back to a range more in line with its market cap prior to the events of default on its debt. Using LMFA's historical trading range of $4 – $6 per share and adjusting for the additional shares issued with the debt exchange, that would put LMFA's shares in the $2.25 – $3.35 range or 50-100% higher than its price as of yesterday's close.

Groove participants can review our full due diligence report on LMFA by clicking here.
In summary, we believe that LMFA is significantly undervalued and that the current trading range offers a great opportunity for Groove community participants to establish a stake in a company that could offer returns of 50% or more when the stock starts to reflect the company's improved outlook.  If any other positive developments were to surface, the jaw dropping short interest (511,000 shares or 51% of the entire public float) outstanding could become a major factor driving share prices much higher as it appears that it would not take much for a short squeeze to materialize. Regardless whether that occurs, we think LMFA is dirt cheap and Groove community participants who buy at these levels should enjoy significant upside soon.
Entry filed under: Uncategorized.